I get lots of questions about my glass coffee mugs that I drink my coffee from every single morning. These glass coffee mugs are my absolute favorite! If you're in the market for some new coffee mugs, why not consider a glass? Glass mugs are becoming increasingly popular with coffee drinkers due to their many benefits. There are so many reasons that I love them, from keeping my coffee hot longer to being more aesthetically pleasing. There are so many reasons why you should use glass mugs for your morning cup of joe. Let's take a look at some of the reasons and also a collection of some of my favorites!
Durability
Most people think that because glass is fragile, it must be delicate. However, this isn't necessarily true. Glass mugs are usually made from borosilicate or tempered glass—both materials are known for being strong and durable enough to resist cracking or shattering even if they're accidentally dropped on hard surfaces like tile floors or concrete walkways. This doesn't mean they are completely indestructible, but I have to say, I have yet broken one over the couple of years I have had them.
Insulation
Glass mugs surprisingly provide excellent insulation for your beverage. If you are like me and sip on a cup of coffee for hours, you will not have to reheat it every 5 minutes. A glass mug will keep your coffee hot longer than traditional ceramic or plastic mugs do. Also, since glass doesn't conduct heat as well as other materials, you don't have to worry about burning yourself when you pick up your mug, either.
Aesthetic Advantage
We love simple and clean design, so it's probably no surprise that I love simple and clean coffee mugs. I prefer a simple glass coffee mug over an over-decorated ceramic mug with a cute saying. this is just me, but I feel like my coffee just tastes better because it looks better.
Glass mugs give off an elegant yet modern vibe that will make you and your guests feel like they are at the cute coffee shop. When you drink your coffee out of a glass mug, you get to admire the beautiful color of your iced latte or cappuccino. Using glass mugs can turn your ordinary cup of coffee or espresso into a piece of art each morning and day.
Another great thing about glass coffee mugs is that they are perfect for storing on open shelves. The clean look of a glass coffee mug will add beauty and style to your shelves while allowing more room in the cabinets for other things.
Our Favorite Glass Coffee Mugs
Here are a few of my favorite glass coffee mugs for you to check out.
Bodum Bistro Double Walled Mugs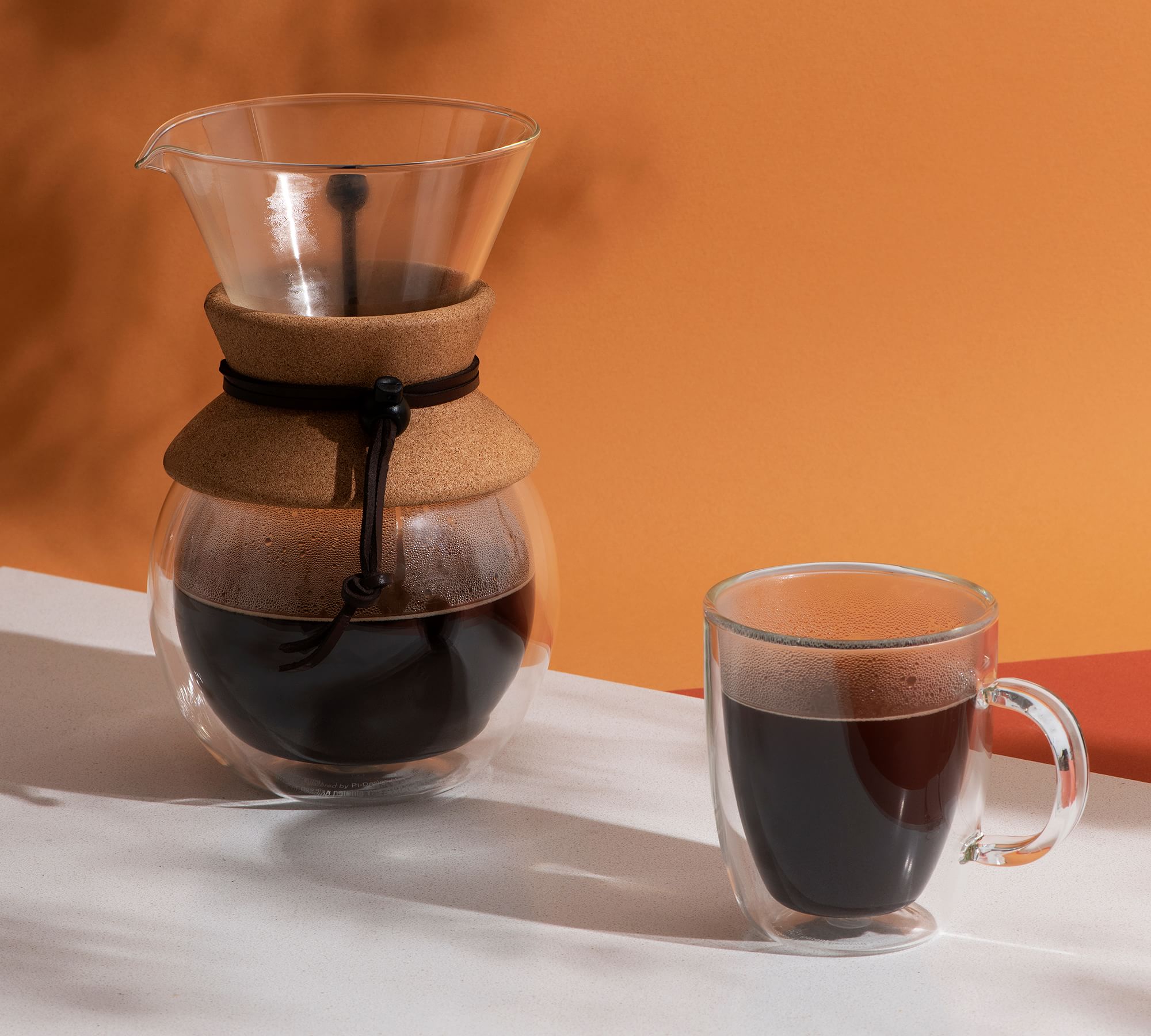 The first mugs are the Bodum Bistro Mugs from Pottery Barn. These mugs are double-walled and come in a set of two. They offer three sizes 5 oz., 10 oz., and 15 oz., or you to choose from. They are lightweight and comfortable to hold with a silicone base which equalizes air pressure between the two layers.
Moderno Clear Glass Coffee Mug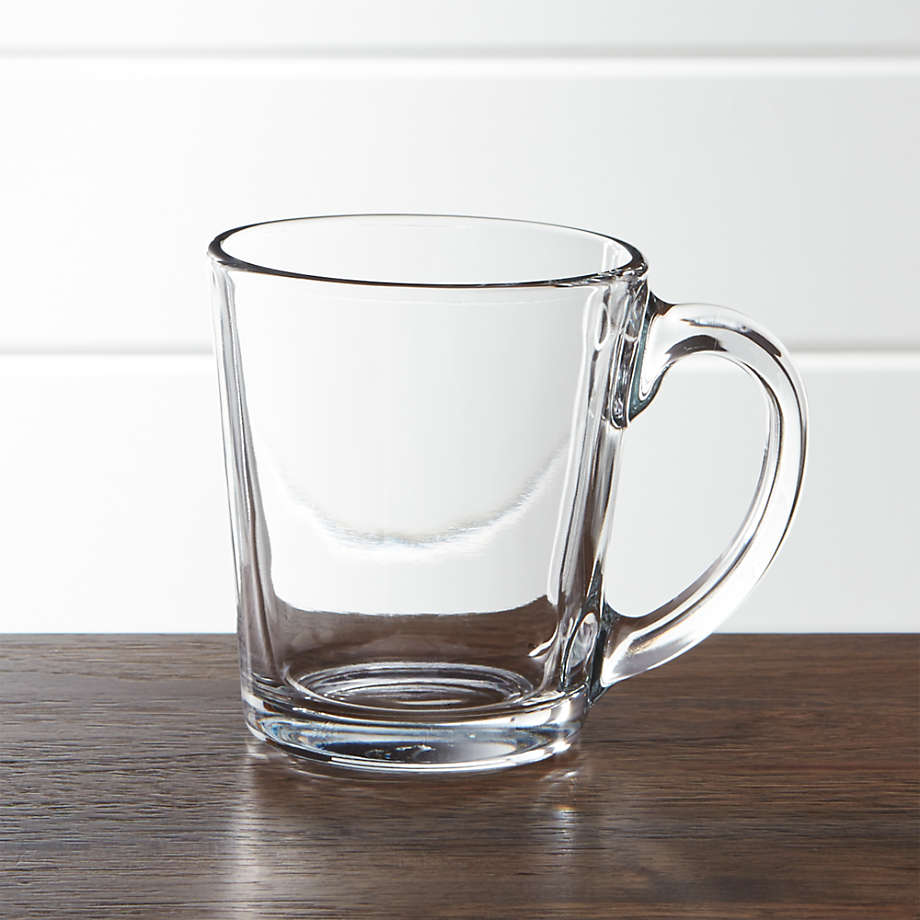 The Moderno Clear Glass Coffee Mug at Crate and Barrel comes in a set of eight. These glass mugs have great reviews and are reasonably priced. These simple glass mugs are dishwasher safe and 13.5 oz. in size.
Williams Sonoma Double-Wall Glass Coffee Mugs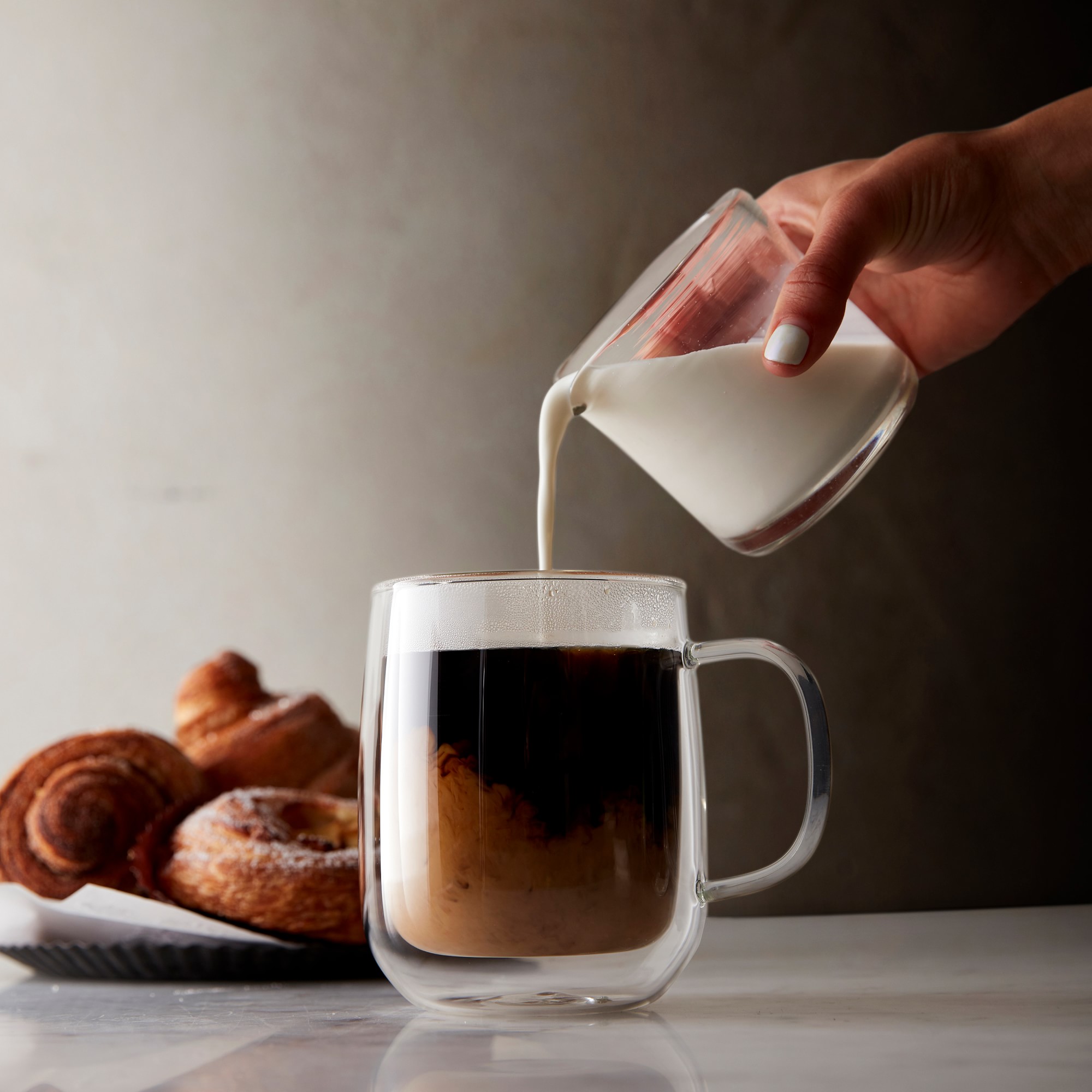 The Double-Wall Glass Coffee Mugs from Williams Sonoma are a little on the pricier side but very durable and also come in a set of four. They have two seamless walls of borosilicate glass, creating an insulating layer of air, keeping your coffee hot longer. This is a commercial-grade glass mug that will be a great choice if you are wanting something that will last for years.
Libbey Tapered Glass Mugs
The Libbey Tapered Glass Mugs from Wayfair comes in a set of eight. The sturdy handle keeps you safe from spills and breakage, and its the thick glass helps maintain the drink's temperature. They are dishwasher safe, BPA free, and 4.13" in height.
Wayfair Clear Double Wall Glass Coffee Cup
The Clear Double Wall Glass Coffee Cup from Wayfair is another one of my favorites and comes in a set of two. With its tasteful, elegant design, it is ideal for either hot or iced coffee. This glass mug is both dishwasher and microwave safe.
I hope this article helped you find the perfect glass mug. I think you'll find that they offer an aesthetic advantage over other types of mugs as well as better temperature control so that you can enjoy every sip without worrying about it getting cold too quickly. Glass coffee mugs are also surprisingly durable despite being made out of glass!
*This page contains affiliate links. If you make a purchase through one of these links, we earn a small commission at no additional cost to you.